Latest Post
September 08, 2004
Oooh, a post: Can Wall!
Just thought I'd let you know that the new housemates are pretty much installed now... Matt still has many boxes to unpack, but hey. Just thought that I'd show you all one of the final pictures taken of the 'Can Wall' before it was taken apart and recycled.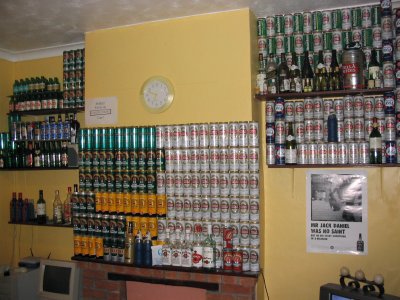 It doesn't look as impressive as it did in real life as it's hard to tell that on the shelves it was 3 cans deep in places.
Cheers!
Earlier Posts
May 01, 2004
Has anything happened since December?
Kate asks... well some stuff has happened... The contract is signed for next year. Ed is remaining in residence, with...
(more...)
December 03, 2003
Big bunch of bastards
I came home this afternoon to see two people leaving my house. Friends of Russ or Ant I thought. Then...
(more...)
October 29, 2003
What date is Halloween?
Not today, that's for sure, the little shits. That'll learn the little buggers. I hate Trick or Treaters. I hate...
(more...)
September 22, 2003
3 is a magic number
Well that's all 3 of us back again... and we've got some more toys! The house network now also features...
(more...)
September 17, 2003
2 back... and no slugs :)
Well looks like it's time to post something here :) Russ and Ed are back in da house. Well there...
(more...)
June 24, 2003
SlugWatch
Seeing as though it's going to take ages for all the water to evapourate we've now got ourselves a view...
(more...)
June 23, 2003
Not again...
We came down this morning afternoon to discover that last night's rain had caused another flood in the living room,...
(more...)
June 22, 2003
Oooh look! We have a cunning photo gallery type thing!
After hours of work I've managed to get Gallery working nicely and stuff with the stylesheets and the blog and...
(more...)
June 21, 2003
Oh no... it's been nearly a month
Hmm... it's been like a month since I updated this thing... oh dear! Well since my last post, the, er,...
(more...)